Thank you so much to Scholastic for sharing this book with #BookAllies! I haven't been creeped out as much as I was in this one. Everyone will never forget Hide and Seek after reading this one…
Also, Tuesday is its BOOK BIRTHDAY! Congrats to Daka Hermon! Ready or not, here IT comes!
---
Summary:
One of our most iconic childhood games receives a creepy twist as it becomes the gateway to a nightmare world.
I went up the hill, the hill was muddy, stomped my toe and made it bloody, should I wash it?
Justin knows that something is wrong with his best friend.Zee went missing for a year. And when he came back, he was . . . different. Nobody knows what happened to him. At Zee's welcome home party, Justin and the neighborhood crew play Hide
and Seek. But it goes wrong. Very wrong.
One by one, everyone who plays the game disappears, pulled into a world of nightmares come to life. Justin and his friends realize this horrible place is where Zee had been trapped. All they can do now is hide from the Seeker.
---
My Thoughts:
Honestly, this is a one-of-a-kind creeptastic book that I will forever recommend to all of my students who want that chill factor. I mean, my fourth graders love to play games still and I sure know that they love to play hide and seek. I will definitely warn them that they will no longer see that game as they once did. Hehe.
Daka's debut has just the right amount of scare on the front cover that will automatically pull kids in. I can imagine kids at our book fairs (if we get to have in-person ones ever again) fighting for a copy. I think students will easily connect to the story and the characters because this childhood game will never go away. The characterization was done so well that it was easy to remember who all of the characters were because they were so unique and different from one another. Other parts of the story that I think will be quite enticing for kids is the reveal of the ice cream man and his evil ways, as well as all of the fears that the kids have that come to life to haunt them. This was a page-turner book so I know for sure it will be for any of my students who are fans of Mary Downing Hahn.
---
About the Author
Daka Hermon was born in Tennessee and spent her childhood huddled under a blanket with a flashlight, reading and writing fairy-tale and fantasy stories. She graduated from Agnes Scott College with a Bachelor's Degree in English Literature/Creative Writing. She works in the entertainment industry and is an active member of the Society of Children's Book Writers and Illustrators. She loves sweet tea, chocolate, cupcakes and collecting superhero toys and paraphernalia. Learn more at https://dakahermon.com/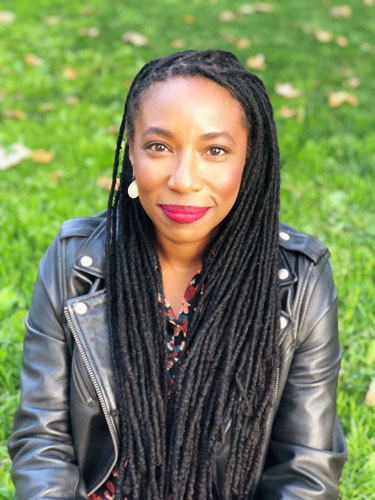 ---
What is the utmost CREEPY middle grade book you've ever read? Share with me below!
Xo, Sierra